Driveroo
FleetAbout

Track Drivers from Their Smartphones Get Live Demo
Easy, Affordable GPS Fleet Tracking Manage your fleet using drivers' smartphones and Driveroo FleetAbout
Real-time GPS tracking
Track your fleet and monitor driver performance data with our app for iPhone and Android
Easy to Set Up
Your drivers simply install the Driveroo Fleet app on their smartphones
For any Fleet Size
Driveroo FleetAbout serves the needs of every fleet, regardless of the size. It is flexible and scalable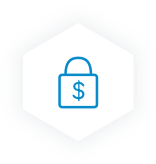 No Extra Cost
There's no need for any additional hardware or expensive data plans
Get instant visibility into the performance
of your mobile workforce
Smart Map Views
Pinpoint the map locations of your drivers with powerful GPS asset-tracking. View the real-time location of multiple drivers within a single map window, or focus on an individual vehicle.
Real-time Data
The Driveroo Fleet tracking app on your driver's mobile device tracks location, vehicle speed and indicates when the vehicle has arrived at a set destination. The data is transmitted via cellular or satellite networks, meaning you can continually evaluate performance via the FleetAbout software on your desktop or your mobile devices.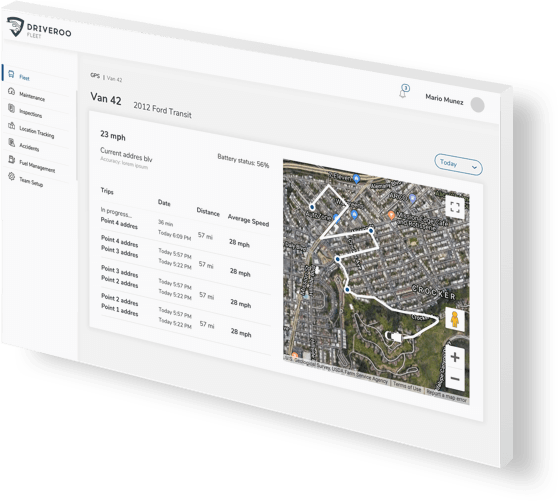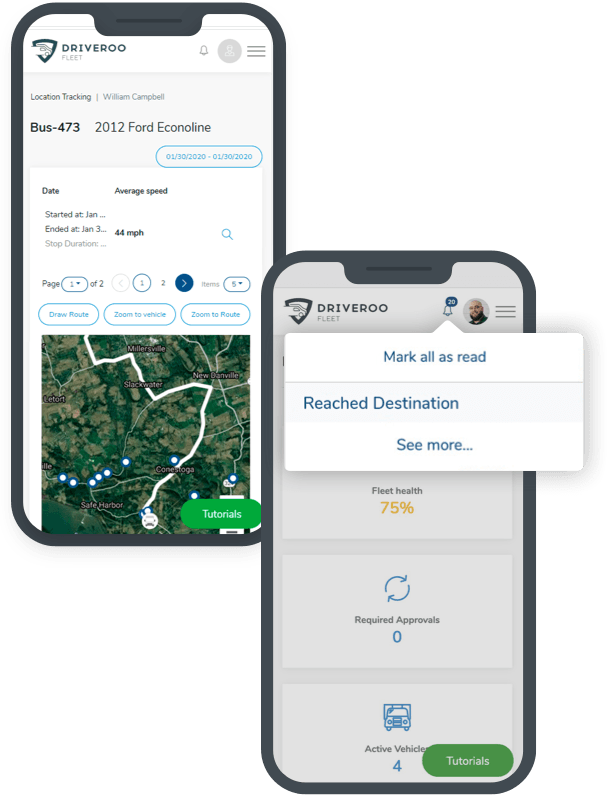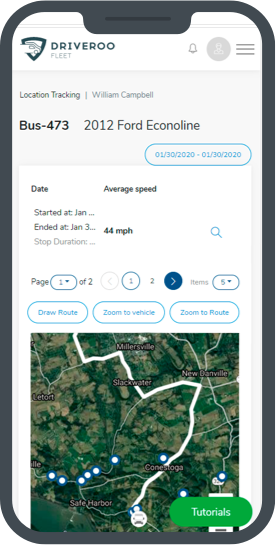 Analyze Driver Performance
Use our fleet tracking system to measure the performance of individual drivers across a range of vehicles in your fleet. Click to instantly view individual or group reports, and make key information visible in graphic form for easy analysis.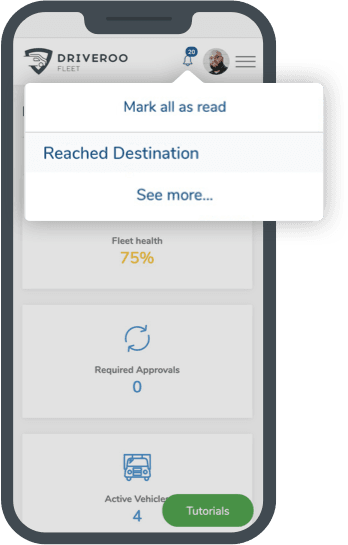 Get Instant Alerts
Customize your alerts and stay up to date with our reliable inbuilt notification service. Receive information about driver behavior and compliance, and see when drivers achieve targets, reach destinations or make deliveries. Set up geofencing alerts, to have a better control of your fleet.
GPS fleet tracking at your fingertips
You get a complete SaaS solution
Transform the way you manage your mobile workforce with the smart tracking system delivered by Driveroo. Gain total visibility of your fleet without expensive hardware or complicated software installations. Our easy installation desktop and mobile apps work with internet-hosted software. That means no software maintenance is required at your side.
Secure data storage and easy software updates
Because we are a cloud-based service, your data is backed up securely and there is no need for any extra expensive physical storage. Software updates are downloaded and installed automatically. So your fleet tracking software is never out of action.
Seamless integration with your Android or Apple devices
There's no need to purchase any expensive hardware. Just install the Driveroo Fleet app onto the smartphones of the individuals within your workforce. We are compatible with Andriod as well as iOS so your drivers won't need any specialist equipment - just their mobile devices. It's the affordable GPS fleet tracking solution that delivers everything you need in one smart platform.
Get Live Demo