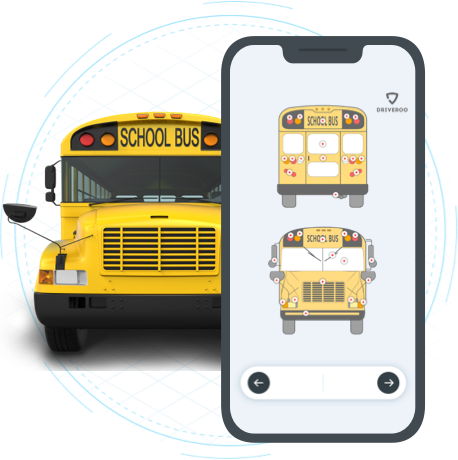 School Bus Inspection Checklist Mobile App
Simplicity by Design
Complete school bus pre-trip inspections in minutes using a fast visual input and a refreshingly simple user interface
A Custom Fit
Use the predefined inspection settings, or configure the process to perfectly match your inspection routines
Concierge Service
Your dedicated Driveroo Concierge will customize and configure your settings, so everything's ready to go when you need it
Driveroo Fleet
Streamline school bus inspections and maintain accurate online records for all your vehicles
Faster Inspections
Move seamlessly through your vehicle inspection process. The Driveroo mobile app is super easy-to-use and incorporates clear vehicle diagrams for any make or model. Just tap to check each item, or quickly insert comments about damage or faults using voice-to-text input.
Video Recording
Record a walkaround video and attach photos for visual evidence of the vehicle condition. Attach videos and photos to the inspection report so that vehicle inspection records are comprehensive and clear-cut.
Instant Reports
Generate and share customized PDF inspection reports that incorporate the unique branding of your organization. Reports are saved in secure cloud storage, so your company has an accurate real-time inspection record for every vehicle in the fleet.
See how Driveroo converted the comprehensive school bus pre-trip checklist to a much easier digital format with visual input technology