Driveroo Vehicle Inspections for Car Dealers

BUILD TRUST WITH YOUR BUYERS
Associate Your Dealership With Trust
82% of Customers feel doubt when buying a used car. Driveroo helps dealers surpass customer apprehension by offering transparency on vehicle's condition though a digital inspection. An available pre-purchase report on sight boosts confidence that the vehicle is safe and mechanically sound
Car Reconditioning made easy
Driveroo knows the true meaning of "time is money" for the dealers. That's why we made used car reconditioning process a top priority building a network of highly trained ASE certified mechanics who can inspect your car in no time. Want to use your own technician? We made that possible with an easy to use SaaS app.
Grow Online Sales
79% of customers do their research online before visiting a dealership. By offering upfront condition report you build trust and reduce uncertainty for your buyers while increasing chances of closing the sale by removing the need to "shop around"
Mobile App that Adds Value to Your Lot
Driveroo streamlines the process of pre purchase inspections to facilitate the purchasing process for both the dealer and the buyer.
Retain your customers and attract new ones by offering an upfront vehicle condition report that

Provides extensive information on necessary reconditioning steps
Helps you make an educated decision about reconditioning steps
Eliminates doubt
Removes condition based negotiation from the process
Improves customer satisfaction
Helps build trustworthy brand name
Get the full picture: Driveroo & Carfax
While Carfax is a trusted brand that provides car history, the car history alone is not sufficient to know the car's condition, which is what the buyer is looking for when purchasing a car. Driveroo fills in this gap to provide an extensive customer facing report that show car's current condition.
Carfax & AutoCheck admit that most vehicle accidents will never show up on their reports. A vehicle history report cannot tell the buyer of any existing or potential mechanical or electrical problems, or the quality of any previous repairs, including any accident repairs.
Knowing of the existing problems helps dealers make educated decisions about the necessary repairs and gives them the bargaining power with the customer.
Vehicle Inspection Report
Score and Condition
Summary
Score Details
Easy to Get
Use an ASE certified mechanic from Driveroo network in your vicinity or suggest a preferred ASE certified technician who we will hook with an easy to use Drvieroo inspection software in no time.
Our technology makes it possible to identify issues and take action upon needed items without any extra effort, so you could spend less time on reconditioning vehicles and more on matching them with your customers.
Driveroo pre-purchase inspection produces detailed report including a score, condition report and details to view directly through the car care app (COMMUNICATION BETWEEN SHOP/DEALER)
If your pre-purchase shows problems that you would like to repair before selling, simply complete the repairs and the updated inspection will be visible directly from your smartphone via the app.
Contact Us to Explore Driveroo Solution for Car Dealers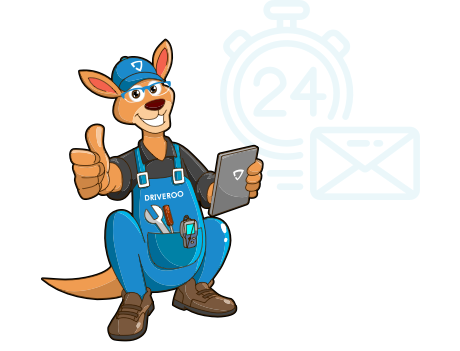 Find out exactly how the Driveroo app will put you ahead of your competition today!
Error: Contact form not found.
DEALERS FAQ, WHAT YOU SHOULD KNOW
As a Dealer am I liable for data in the report?
How is this different than Carfax?
What if the inspection shows issues?
Do I have to use a Driveroo Network Shop?
What if the customer is remote and wants pictures?
Can I create two Driveroo Reports from my e-commerce site?
Why doesn't the Dealer Pre-Purchase Report include pictures?
Why doesn't the Dealer Pre-Purchase Report include Repair Cost Estimates?