Driveroo shared mobility solutions help your business integrate fleet management and maintenance for fleet sharing. Integrate Driveroo software in your shared fleets to scale, decrease downtime, and increase potential.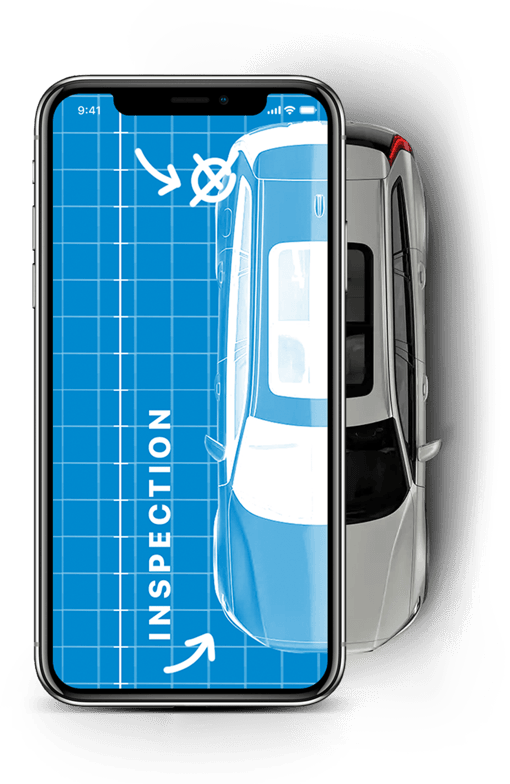 Inspect, Inspect, Inspect
Driveroo shared mobility software optimizes your fleet for the mobile platform. Our experience with traditional fleets proves that regular, in-depth inspections help avoid unneeded costs and decrease downtime. Driveroo fleet inspections ensure the proper condition and working order, allowing your team to focus on operations rather than repairs.
Inspection is at the heart of shared mobility solutions. Inspecting your fleet means identifying areas of repair and tracking fleet condition. A quick and easy daily inspection process means compliance, less downtime, and avoided repairs. Forget pen & paper—all inspections are from the mobile app, making inspection quick and simple. Driveroo makes inspections easy with visual Turbographics™ technology: simply tap on the diagram of the vehicle to inspect. Inspections are powered by AI to inspect weak points and future areas of repair. In the case of an accident or collision, Driveroo software submits an accident report and prompts an inspection. All inspection reports sync automatically and are uploaded to the fleet dashboard.
By making inspection easy and painless, Driveroo shared mobility solutions make sure your fleet is in proper working condition. Whether your customers share planes, trains, or automobiles, Driveroo can help all fleets optimize their operations to decrease downtime and increase the potential to scale.
Eliminate paper
Fast, simple, easy with Turbographics™
AI Prediction
Syncs and uploads to dashboard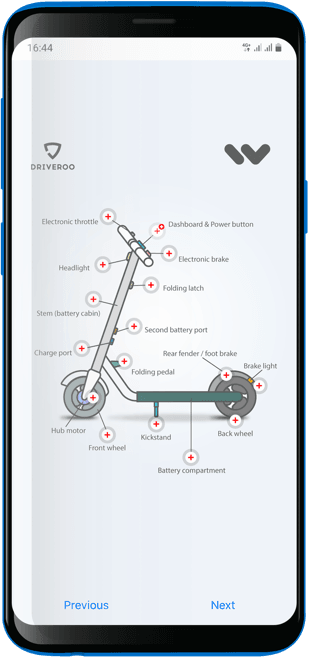 Integrate with Driveroo
Driveroo shared mobility solutions easily integrates with your existing shared mobility software. Since Driveroo is 100% mobile, our solutions require no additional hardware. All fleet operations integrate easily through our easy-to-use web dashboard and mobile app.
Driveroo is the perfect complement to your fleet software. Driveroo inspections use AI to proactively predict future issues, identifying points of repair before they happen to decrease downtime and costs. If an inspection discovers a needed repair, Driveroo notifies managers through the web dashboard. Instantly schedule repairs, either in-house or through a Driveroo shops network, to get back on the road and reduce downtime. Once you receive a quote for the repair, managers can approve individual repairs. Our approval system allows your fleet to only order urgent repairs, decreasing downtime and costs. Through Driveroo's maintenance functionality, your shared fleet will perform at maximum efficiency with minimum downtime.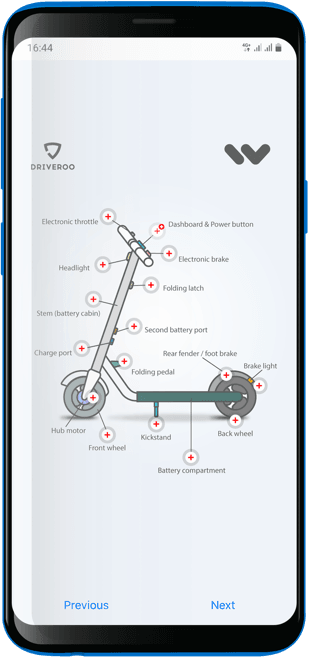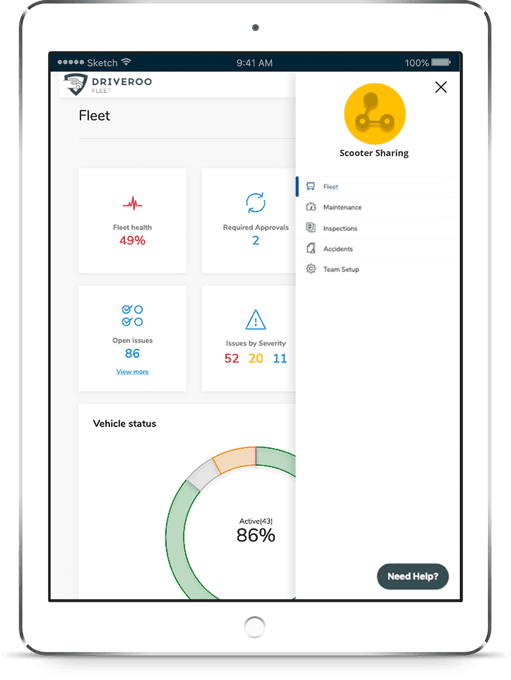 Mobile Control
Driveroo shared mobility software also offers greater convenience and increased efficiency to your fleet sharing. Use the web dashboard to access inspection reports, accident reports, and business metrics. Monitoring inspections and accidents ensure proper knowledge of the fleet condition, informing future operational decisions. Driveroo maintains and stores all reports in the cloud, meaning all fleet information is available online, 24/7. Driveroo software also displays your fleet metrics to better track operations. Maintenance costs, inspection times, and other business statistics can be displayed on the dashboard for close monitoring. Optimize your operations management with Driveroo intelligence.
Driveroo will work with your fleet to customize the experience. Send us your inspection requirements, and we will generate custom inspection reports and functionality to better suit your needs.

With Driveroo shared mobility solutions, your shared fleet operates more efficiently, with less downtime and greater potential.
Request a demo today, and see why Driveroo is right for you!