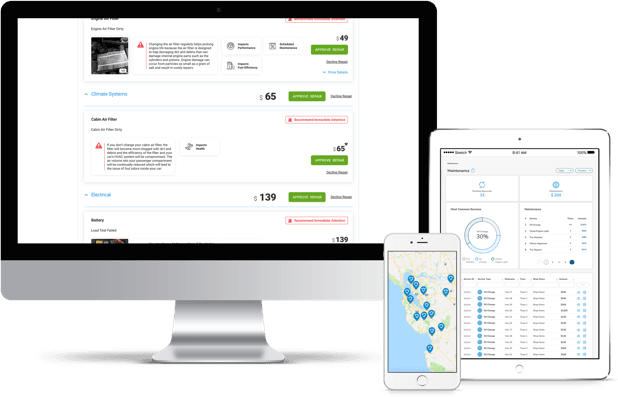 DRIVEROO FLEET


MANAGEMENT SOFTWARE

Making the Most out of Your Fleet
BEYOND

FLEET MANAGEMENT

Driveroo fleet management software isn't only about fleet management: we're here to help your fleet scale, grow, and optimize operations. Whether it be maintenance, GPS tracking, or intuitive graphics, Driveroo looks past traditional fleet software and caters to fleets of all sizes to deliver professional business solutions at a reasonable price. Reduce costs, decrease downtime, and increase potential with Driveroo fleet management software.
Fleet Maintenance
Inspections are at the core of Driveroo software. We believe that the easiest way to improve efficiency, decrease costs and downtime, and stay compliant is through quick, daily inspections. Driveroo's daily pre/post-trip inspections (eDVIRs) are completed using the driver's phone and are powered by Turbographics™ technology: drivers simply tap on the diagram of the vehicle to inspect. Making this process intuitive means little to no training time, inspection times up to 10x faster than competitors, and decreased downtime.
Learn more
Fleet Inspections
Driveroo brings fleet maintenance software to the cloud. Leave pen and paper behind! Powered by inspections, Driveroo software identifies if an inspection reveals a needed repair and notifies the fleet manager. 100% digital, access and review all inspections and accident reports from the web dashboard to monitor your fleet's condition. If a repair is needed, conduct in-house repairs, choose a preferred shop, or connect with a certified repair facility. Instantly approve individual repairs based on priority to decrease downtime and costs.
Learn more
Fleet Tracking
Knowledge is power: track your fleet's location through Driveroo. Since Driveroo is 100% digital and mobile, there is no need for additional devices. Vehicles are GPS-tracked through the driver's mobile phone or tablet, and all locations are accessible through the fleet dashboard. This GPS tracking allows fleet managers to better optimize routes and decrease costs. With Driveroo fleet mobility services, tracking your fleet has never been easier.
Learn more
DRIVEROO FOR THE INDUSTRIES
Driveroo brings mobility to fleets in all industries. Education, lumber, and delivery are only three of the fields which Driveroo serves. Driveroo fleet management software can help your industry organize fleets and manage volume. Through revolutionary inspection technology, a central online gateway, and a painless maintenance plan, Driveroo brings fleet mobility to your industry. Grow, scale, and expand with Driveroo fleet management software!

Schools
& Universities
Transportation
& Logistics
Construction
Delivery
Shared Mobility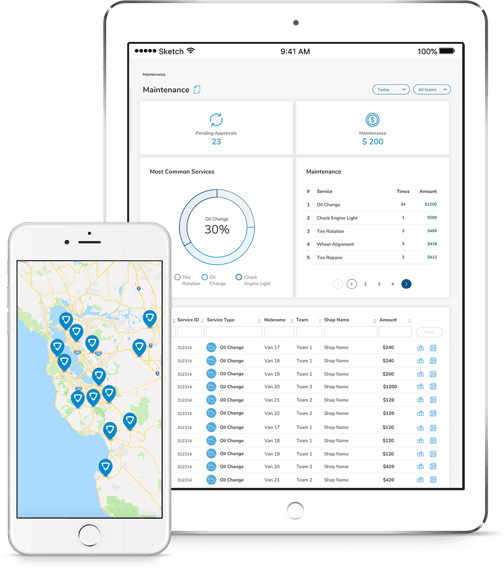 GO MOBILE
Driveroo brings fleet management software to the mobile platform. Forget pen and paper: all inspections are completed via the mobile app, and all reports are accessed through the web dashboard. Driveroo digitizes fleet management to better suit the 21st century. All records are organized online, which means less oversight and better compliance. All vehicles can be tracked through the drivers' phones, and operations such as scheduling maintenance, monitoring condition, and approving repairs are all controlled through the web dashboard.
Driveroo fleet mobility is your gateway to the digital world. Request a demo, and see why Driveroo fleet management software is right for you!
Get a Demo
360-DEGREE NETWORK
We understand that maintaining a fleet is a challenging task, regardless of its size and type. Whether you manage an autonomous, virtual, last mile or any other fleet type, fleet condition and mobility impact not only straightforward business indicators but also the reputation and image of your business in general.
Driveroo helps fleets maintain vehicles in top condition by streamlining the repair process, both in-house and outsourced. We empower technicians with Driveroo Inspector App to perform inspections quickly and effectively, instantly share inspection results with the fleet manager who can approve repairs in real time. No delay, no inefficiency
Get a Demo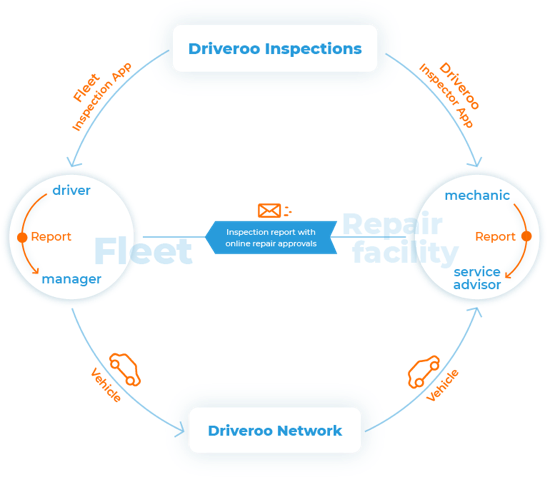 CUSTOMERS SAY
At my company, our mission is to continue to provide the absolute best in remembrance services. To do so, it's critical that we maintain a quality fleet, prior to Driveroo we could only be reactive, now we have the transparency required to maintain our Fleets in their best possible condition.
Robert
CEO
Every time my business grew the overhead of maintaining my fleet went up exponentially. I would not have been able to double my business this year without implementing Driveroo Fleet.
Amazon Last Mile Fleet Company
CEO
We have been using Driveroo in our shop for a couple of weeks now and as the service writer actually seeing the inspection with pictures and then being able to send them over to my customers has been amazing! Seeing things helps me be more confident in what I am selling. And our customers absolutely love being able to see what's going on and makes it a much more transparent process!
Sarah
Service Advisor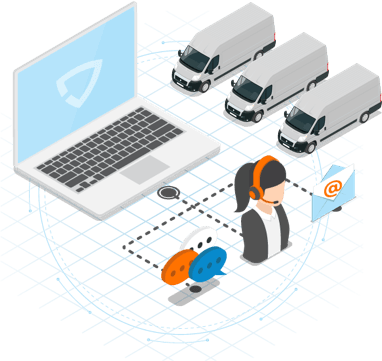 CONTACT US

TO EXPLORE
YOUR SOLUTION
You're one step closer to your custom inspection